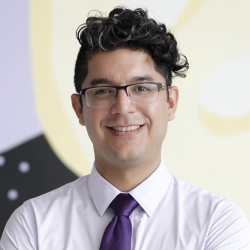 Michael De Anda Muñiz, Ph.D.
Faculty Biography
B.A. Sociology, DePaul University
M.A. Sociology, University of Illinois at Chicago
Ph.D. Sociology, University of Illinois at Chicago
Latina/x/o communities, women of color feminisms, sociology of culture, art, space, policing, community-engaged scholarship
LTNS 530: Latinas/os and the Media
LTNS 640: Sociology of the Latina/o Experience
LTNS 680: Latina/o Community Organizing
"Radioactive: Stories from Beyond the Wall" 2018. Chicago, IL, Public Site Installation. https://vimeo.com/305112492
Performance at "Brown Brilliance Darkness Matter" 2016. National Museum of Mexican Art, Chicago, IL.
College of Extended Learning, Ethnic Studies degree completion program, course instructor, 2022
Exceptional Assigned Time Awards Committee, SFSU Academic Senate, 2021-2022
Latina/Latino Studies Department Curriculum Review Committee, 2021-2022
Muñiz, Michael De Anda. 2021. "A Chicano Abolitionist Teaching in Jail: The Impact of Race, Gender, and Class" Pp. 229-248 in Gender, Race, and Class in the Lives of Today's Teachers: Educators at Intersections edited by Lara Murti and Glenda M. Flores. New York: Springer.
Muñiz, Michael De Anda, Janaé Bonsu, Lydia Dana, Sangeetha Ravichandran, Haley Volpintesta, and Andy Clarno with Reyna Wences, Rodrigo Anzures, Rosi Carrasco, and Tania Unzueta. 2020. "From Graduate Practicum to Activist Research Collective: A Roundtable with Members of the Policing in Chicago Research Group and Our Community Partners." Radical History Review 20(137): 141-156.
Muñiz, Michael De Anda. 2018. "The Power of Latina/x/o Studies Beyond the Ivory Tower and Inside Prison Walls." Latino Studies 16(4): 531-541.
Ruehs, Emily, Regina Pessagno, Rachel Lovis, William Scarborough, Michael De Anda Muniz, Maximilian Cuddy, Jesse Holzman, and Dennis Kass. 2018. "A Relevant Pedagogy: Outcomes from a High School Sociology Research Practicum."Journal of Public and Professional Sociology 10(2): Article 2.