Welcome to the Department of Latina/Latino Studies at SF State. When you take classes in this department, you are enrolling in history by participating in a long and powerful legacy of students committed to education and social justice. SF State's Latina/Latino Studies Department is the first of its kind on any four-year college campus.
Thank you for joining us. We welcome you, your intellectual curiosity and your contributions toward social justice and equity!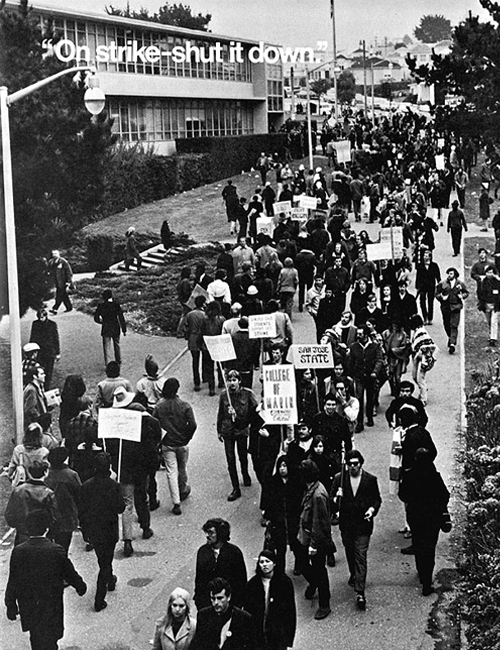 The LTNS Seed: Planted in 1969
The Latina/Latino Studies Department (originally Raza Studies) was established in the Fall of 1969, as part of the College of Ethnic Studies, after the longest student strike in the history of the United States. From November 1968 through April 1969, the Black Student Union, the Third World Liberation Front, select staff and faculty, and members from the larger Bay Area community organized and led a series of actions against systematic discrimination.
The mural in our hero image includes a portrait of visual artist Yolanda Lopez. As a young Chicana, Yolanda joined the picket lines to expose racism on campus and demand student of color enrollment as well as a curriculum that reflected the rising liberation movements across the globe. The College of Ethnic Studies was established as a response to the demands of students and community members who called for the creation of academic programs that address the experiences and histories of under-served communities in the San Francisco Bay Area.
Hero image mural created by Jessica Sabogal. "Sobreviveremos: A Portrait of Yolanda Lopez and Tribute to the Organizations of 1969 Working Towards Liberation and Self-Determination: Los Siete de la Raza, The Black Panther Party, and the Indians of All Tribes." Acrylic on concrete, 2021. Located at 2060 Folsom Street. Casa Adelante, co-developed by Mission Economic Development Agency (MEDA) and Chinatown Community Development Center. 100% affordable-housing in San Francisco's Mission District.
How Latina/Latino Studies Impacts Students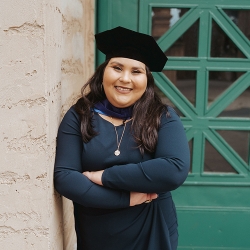 Yaratzed Hernandez, J.D. (Latina/Latino Studies Minor, 2017)
As a first-generation Mexican American woman, I was unfamiliar with the history, struggles and triumphs of Latinos/Latinas. The little that I did know came from my parents' limited education. The variety of classes offered by the Latina/Latino Studies Department are exceptional. My educational journey would have been a lot more difficult if I did not have the support of my professors and counselors at SF State. The faculty supported me the best they could and referred me to others when needed. The department's objective is to guide their students to success, and each student's success is different.
Explore Latina/Latino Studies Opportunities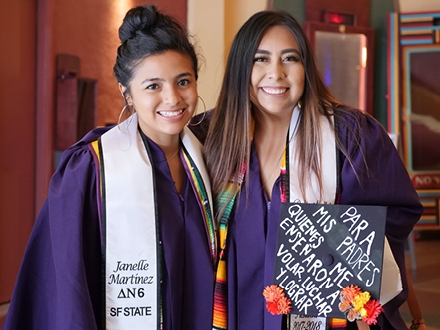 Programs
Our programs provide students with a cross-disciplinary understanding of the historical and present-day issues facing the Latina/Latino/Latinx diaspora. Our curriculum is committed to community service and empowerment and social justice.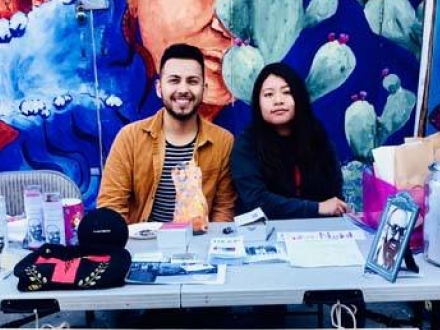 Student Opportunities
The knowledge and experience gained through the Latina/Latino Studies Department prepare students to bring together theory and practice. We understand that engaged learning happens inside and outside of the classroom.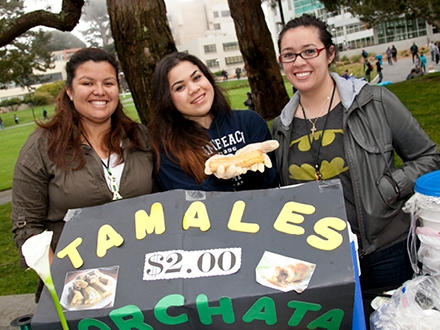 Community
We fulfill our mission by educating and growing future leaders who are civically engaged scholars, leaders, and trailblazers. Working alongside Latina/Latino-led organizations, we establish a culture rooted in community service.
Events
Learn More About LTNS Programs