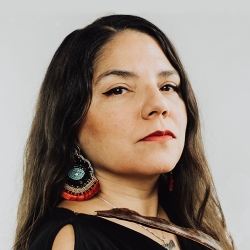 Leticia Hernandez, M.F.A.
Lecturer Faculty Biography
M.F.A, Creative Writing, 2020, San Francisco State University  
M.A., English, 1994, University of Pennsylvania
B.A., English, cum laude, 1993, Scripps College
Central American Studies and local San Francisco history and populations.
LTNS 410: Seminar on Gender and Latinas/Latinos
LTNS 460: Central Americans of the U.S.: History and Heritage
LTNS 230: Introduction to Latina/o Literature
LTNS 305: Latina/o Studies Creative Writing Workshop
LTNS 435: Oral History Methods: Theory and Practice
LTNS 455: Resistance Literature of the Americas
LTNS 215: Introduction to Latina/Latino Studies 
WGS 541: Women Writers and Social Change 
WGS 548: Literature by Women of Color
RRS 280: Race, Gender & Sci Fi Lit 
YBCA 100 Fellow, Inaugural Cohort, 2020
New England Foundation for the Arts, Ensemble Grantee, 2020
Library Laureate, San Francisco Public Library, 2017
San Francisco Arts Commission Artist Grantee, 2021
Local Hero Award, Latino Heritage Month, KQED, 2009
Faculty Advisor, Hermanas Unidas 2020-2021
BOOKS
Alejandria Fights Back/ Alejandria defiende, Feminist Press, 2021.
Wandering Song:  Central American Writing in the United States, Ed. Leticia Hernández-Linares, Rubén Martínez,  Héctor Tobar, Tía Chucha Press,  2017.
Mucha Muchacha, Too Much Girl, Tía Chucha Press, 2015.
Razor Edges of My Tongue. Calaca Press, 2002.
SELECTED POEMS
"Latido," (Poem of the Week) The Quarry: A Social Justice Poetry Database, Split This Rock, October 2020. 
"Orquesta Missíon," & "Her Arms Filled with Stars," The BreakBeat Poets Volume 4: LatiNEXT, Haymarket Books (2020).
"El Círculo del Cuento, the Story is a Circle," Maestreapeace, San Francisco's Monumental Feminist Mural, Juana Alicia et al., Heyday Press, (2019)
"#metoo for Tlaloc"; "On the First Day of War, I'm Supposed to Teach Poetry"; "Tragedilandia," 
La Piscucha Magazine, Volume 1, 2019.
Five Poems in Other Musics: New Latina Poetry," Cynthia Cruz, ed.  University of Arkansas Press, 2019.
"Her Arms filled with Stars" [Pank] Issue 14, 2019.
"Truth in the Negatives," and "How to Build a Funeral Pyre," Latinas: Voices of Protest and Struggles in 21st Century USA, Iris Morales, ed. Red Sugarcane Press, 2018.          
"Cartógrafa," Women, Mujeres, Ixoq: Revolutionary Visions, Claudia Hernández, ed. Conocimiento Press, 2018. 
"Luna de papel," & "Ojo de díos," Poetry in Flight/Poesía en Vuelo, El Tecolote, 2017.     
"A Talent for Packing," Atravesando, An Aster(ix) Anthology, Angie Cruz & Oindrila Mukherjee, eds.  Blue Sketch Press, 2016.     
OTHER PUBLICATIONS
Visit Leticia's website joinleticia.com