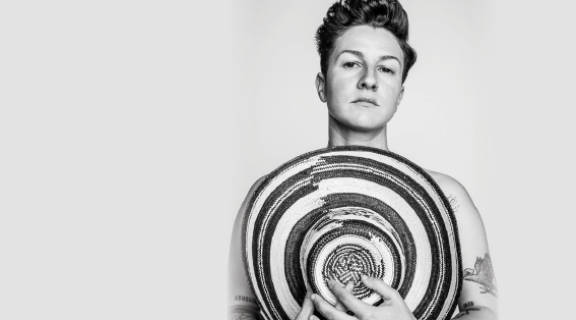 Latinx Speaker Series: Special Guest Jessica Sabogal
Friday, April 29, 2022
Event Time
10:00 a.m. - 11:30 a.m. PT
Contact Email
ltns@sfsu.edu
Overview
Jessica Sabogal is a contemporary Colombian American muralistx from San Francisco, California, and is best known for her stencil, street, and poster art. Her murals and paintings often portray profiles of cuir, black, indigenous, and trans women of color, youth, family, herself, and members of her community. This artist talk explores how her work challenges patriarchal structures and male-dominated presence by putting women, elders, and youth in the foreground of her paintings. Sabogal will delve into her journey of how she learned to erect monuments and be present in all of the layers of creation: to perform research on the painting's subject, to prepare all of the necessary materials, to organize a team to put up the art, to celebrate the message, and once it is out in the world–to protect it.
The Latinx Speaker Series at San Francisco State University is a strong partnership between Latinx Student Services and the Latina/Latino Studies Department. We host monthly Latinx identifying individuals to discuss various salient topics that impact the Latinx community. This spring semester we are virtually hosting a distinguished line-up of speakers/artists that express their work through the arts. The Latinx Speaker Series is free to all SFSU students, faculty, staff, alumni, and community members.
About Special Guest Jessica Sabogal:
"One of the most revolutionary things I can do is love a woman," muralist Jessica Sabogal once said about her relationship with art, her identity as a lesbian woman of color, and her partner, mixed-media artist Shanna Strauss. Jessica Sabogal travels the world creating to urgently document and purposefully disrupt spaces that preclude and exclude her larger-than-life murals. Known for her succinct statements such as, "You are not free until all of us are free," "Youth so educated are dangerous," and "Protect our trans daughters," Sabogal works to ensure that her murals are familiar and not foreign to the communities surrounding her monuments. Sabogal's art has graced canvases, walls–from Montreal to Paris, Bogota to San Francisco–and even book covers, toys, movie posters, protest signs, and on city buildings. Her murals have been commissioned by Facebook, Google, 20th Century Fox, USC, UCSF, CSU San Marcos, The University of Arizona, and The National Museum of Mexican Art among many others. Sabogal's work has since been featured in national and international news and media sources including CNN, The Wall Street Journal, The Huffington post, and the New York Times.