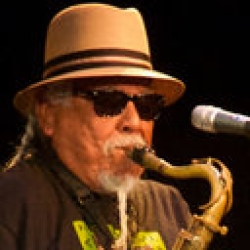 Faculty Biography
Ph.D., Anthropology, University of California at Los Angeles
M.A., Anthropology, University of California at Los Angeles 
B.A., California State University at Long Beach
LTNS 110: Critical Thinking in Latina/o Studies
LTNS 215: Introduction to Raza Studies
LTNS 280: Latina/o Transculturation
LTNS 425: Comparative Music Folklore
LTNS 435: Oral History Methods: Theory and Practice
LTNS 465: Mexican Americans: History & Heritage
LTNS 475: Aztec Philosophy
LTNS 450: Indigenismo: Indigenous Cultures of the Americas
LTNS 530: Latinas/Latinos in the Media
LTNS 640: Sociology of the Latino Experience
LTNS 680: Raza and Community Organizing
I am internationally known as "Dr. Loco", the founding director of the acclaimed Dr. Loco's Rockin' Jalapeño Band since 1989, and have produced and performed on four music CDs (Con Safos in 1991, Movimiento Music in 1992, Puro Party in 1995, and Barrio Ritmos & Blues in 1998) and a feature film musical soundtrack Alambrista! (director's cut, 2002).
The Rockefeller Humanities Gateway Fellowship (1997-98)
The Diversity in Teaching and Learning Distinguished Faculty Award (2000)
Ford Foundation Grant (2001-2003)
The Distinguished Alumnus Award, California State University at Long Beach's College of Arts and Letters (2002)
Pillar of Achievement Award, Golden West College (2003)
"Chicanismo" in The Oxford Encyclopedia of Mesoamerican Cultures. Oxford University Press (2001).
"El Saxofón in Tejano and Norteño Music" in !Puro Conjunto! An Album in Words and Pictures. University of Texas Press (2001).