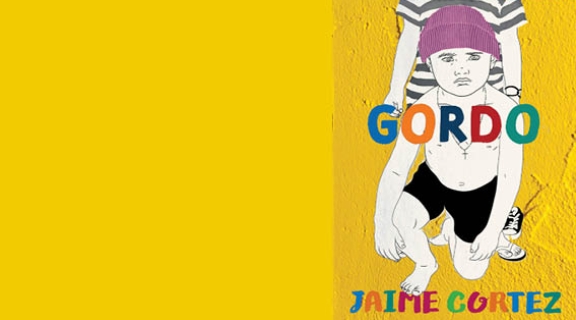 An Evening with Jaime Cortez
Thursday, April 28, 2022
Event Time
07:00 p.m. - 09:00 p.m. PT
Location
SFSU Library Events Room (LIB 121)
Contact Email
katynka@sfsu.edu
Overview
Join us for a conversation with artist & writer Jaime Cortez and multi-disciplinary artist Vero Majano.  
Jaime Cortez is a writer and visual artist based in Watsonville, California, and the San Francisco Bay Area. Jaime often combines humor and tragedy to tell stories of resilient survivors who exist on the margins of the economy, the law, and social acceptability. Gordo (Grove Atlantic, 2021) is Jaime's debut collection of short stories. Gordo is set in a migrant workers camp near Watsonville, California in the 1970s. A young, probably gay, boy named Gordo puts on a wrestler's mask and throws fists with a boy in the neighborhood, fighting his own tears as he tries to grow into the idea of manhood so imposed on him by his father. 
Jaime's fiction, essays, and drawings have appeared in diverse publications that include Kindergarde: Experimental Writing For Children (edited 2013 by Dana Teen Lomax for Black Radish Press), No Straight Lines, a 40-year compendium of LGBT comics (edited 2012 by Justin Hall for Fantagraphics Press), Street Art San Francisco (edited 2009 by Annice Jacoby for Abrams Press), and Infinite Cities, an experimental atlas of San Francisco (edited 2010 by Rebecca Solnit for UC Berkeley Press). He wrote and illustrated the graphic novel Sexile for AIDS Project Los Angeles in 2003. https://jaimecortez.org 
Vero Majano is a multi-disciplinary artist born and raised in San Francisco's Mission District. Her work creates space to acknowledge and remember the queer Latinx communities that have shaped one of San Francisco's most iconic yet contested neighborhoods. As a storyteller and curator, Majano's practice includes live cinema, archival film, performance, and collage, which preserve stories and work towards a collective goal of including untold narratives in a greater San Francisco history, like the flowers on hippies on Haight Street. Her work has shown at the Guggenheim Museum in New York, the McEvoy Foundation for the Arts, the deYoung Museum, Oakland Museum of California, and Galeria de la Raza. She has received grants from the Rockefeller Foundation Media Fellowship, the Puffin Foundation, SF Arts Commission, the Free History Project, and she was a resident at the Headlands Center for the Arts and Djerassi Resident Artist program.  
The Department of Sociology and Sexuality Studies is hosting the event. The Department of Latina/Latino Studies is a co-sponsor.