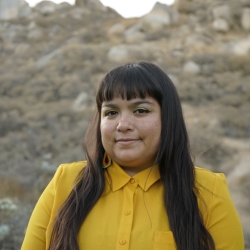 Carolina Prado
Assistant Professor
Office: EP 416
Phone: TBD
Email: TBD
Faculty Biography
Dr. Carolina Prado works at the intersection of community based research, environmental justice, and border studies. As a first generation queer Chicana, she believes that her struggles for social and environmental justice should create an impact on both sides of the border. Her current work is using environmental justice mapping indices in the U.S. as a guide to create a spatial analysis of environmental inequality in the border city of Tijuana, México. She is also passionate about food justice and anti-domestic violence work.
PhD, Environmental Science, Policy, and Management with Designated Emphasis in Gender, Women, and Sexuality | University of California, Berkeley
BA, Environmental Studies & Women's Studies | San Diego State University
Environmental justice, U.S.-México border issues, Gender and the environment, Climate justice, Water pollution, Participatory Geographic Information Systems, Community based research
LTNS 210: Latina/o/x Health Care Perspectives
Peer Reviewed Articles
Prado, Carolina, Katherine Cushing, Elizabeth Figueroa, Imelda Rodriguez, Mayra Pelagio, and Marisela Castro. "The confidence to speak: Measuring impacts of a community leadership program on community leadership skills and self-identification." Community Development (2021): 1-20.
Prado, Carolina, Colectivo Salud y Justicia Ambiental, and Red de Ciudadanos para el Mejoramiento de las Comunidades. "Border Environmental Justice PPGIS: Community-Based Mapping and Public Participation in Eastern Tijuana, México." International Journal of Environmental Research and Public Health 18, no. 3 (2021): 1349.
Prado, Carolina. "Community Participation and Recognition Justice in Border Environmental Governance." Journal of Borderlands Studies (2020): 1-19.
Prado, Carolina. "Borderland environmental justice and governance apertures." Environmental Politics 29, no. 7 (2020): 1264-1283.
Prado, Carolina. "Just community participation and Border environmental governance: A view from the Border 2020 program." Journal of Environmental Policy & Planning 21, no. 6 (2019): 662-674.
Gonzalez, Alejandra, Irene Lara, Carolina Prado, Sophia Lujan Rivera, and Carmen Rodriguez. "Passing the Sage: Our sacred testimonio as CuranderaScholarActivists in academia." Chicana/Latina Studies (2015): 110-155.
White Papers/Technical Reports
Prado, Carolina. "RE: U.S. Environmental Protection Agency and Mexican SEMARNAT's 'Border 2025 Program' Draft Framework and Increasing Community Participation." Policy Memo. Border 2025 Program Coordinators.
Prado, Carolina, Interfaith Movement for Human Integrity, Freedom for Immigrants, and the Immigrant Defenders Research Group. "2018 West County Detention Facility Report: An analysis of conditions at West County Detention Center (Richmond, CA)." Policy Report. West County Detention Center Sheriff.