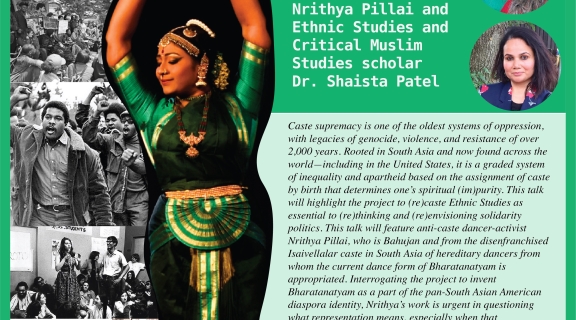 Beyond "People of Color" Politics: Extending Ethnic Studies through Caste
Tuesday, April 26
Event Time
03:00 p.m. - 04:30 p.m.
Contact Email
katynka@sfsu.edu
Overview
A dialogue between anti-caste dancer-activist Nrithya Pillai and Ethnic Studies and Critical Muslim Studies scholar Dr. Shaista Patel.
Caste supremacy is one of the oldest systems of oppression, with legacies of genocide, violence, and resistance of over 2,000 years. Rooted in South Asia and now found across the world -including in the United States, it is a graded system of inequality and apartheid based on the assignment of caste by birth that determines one's spiritual (im)purity.
This talk will highlight the project to (re)caste Ethnic Studies as essential to (re)thinking and (re)envisioning solidarity politics. This talk will feature anti-caste dancer-activist Nrithya Pillai, who is Bahujan and from the disenfranchised Isaivellalar caste in South Asia of hereditary dancers from whom the current dance form of Bharatanatyam is appropriated.
Interrogating the project to invent Bharatanatyam as a part of the pan-South Asian American diaspora identity, Nrithya's work is urgent in questioning what representation means, especially when that representation is built on appropriation, erasure, and genocide.
Moderated by Ethnic Studies and Critical Muslim Studies scholar Dr. Shaista Patel, this historic conversation will touch on questions of embodiment, critiques of representation and multiculturalism, and lay bare the vertical violences sanctioned and invisibilized under the term "people of color." Through exploring the relationship between Bahujanness and Dalitness, this conversation will offer an analysis to extend Ethnic Studies beyond U.S. centrism and explore the terms of coalition-building beyond complicities and violences in a moment of genocide.
Co-sponsored by Department of Race & Resistance Studies, Department of Latina/Latino Studies, and AA&PI Student Services.