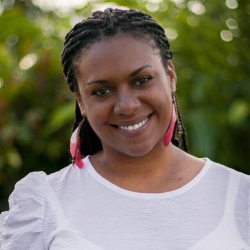 Bárbara Abadía-Rexach, Ph.D.
Faculty Biography
B.A. in Communication (2001) - University of Puerto Rico
M.A. in Theory & Research of Communication (2006) - University of Puerto Rico
Ph.D. in Sociocultural Anthropology (2015) - The University of Texas at Austin
Afro-Latinxs, Latinxs in U.S., Latin American Studies, Racialization, Blackness, Identity Formation, Popular Culture, Music & Race in Puerto Rico, Media Studies, Black Hispanic Caribbean & African Diaspora.
LTNS 380 Afro-Latina/o Diasporas
LTNS 467 Caribbeans in the U.S.: History and Heritage
LTNS Department Curriculum Review Committee, 2021-present
Online Education Committee, 2021-present
Abadía-Rexach, B. (2012). Musicalizando la raza.  La racialización en Puerto Rico a través de la música. San Juan, Puerto Rico: Ediciones Puerto.
Abadía-Rexach, B. (Summer 2021) Adolfina Villanueva Osorio, Presente. NACLA Report on the Americas, 2, vol. 53, pp. 174-180. Routledge. DOI: 10.1080/10714839.2021.1923222
 Abadía-Rexach, B. (Spring 2020) Summer 2019: The Great Racialized Puerto Rican Family Protesting in the Street Fearlessly. Society and Space Forum The Decolonial Geographies of Puerto Rico's 2019 Protests.
Abadía-Rexach, B. (Spring 2018). Los repiques de la Afrodescendencia en Puerto Rico: salsa, plena, bomba y rumba. Afro-Hispanic Review: Afrodescendencia en Puerto Rico.
Abadía-Rexach, B. (Fall/Winter 2018). Mujeres puertorriqueñas: alertas y combativas / Puerto Rican Womyn: Alert and Combative. WSQ: Protest, 3&4, vol. 46. https://muse.jhu.edu/article/706825/pdf  
Abadía-Rexach, B. (December 2021). Mujeres y músicas en Puerto Rico: entramados de género y negritud in M.Paz López-Peláez-Casellas (Coord.). Músicas encontradas. Feminismo, género y queeridad. Universidad de Jaén.