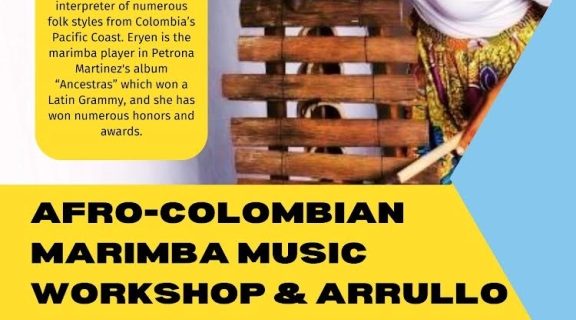 Afro-Colombian Marimba Music Workshop & Arrullo
Wednesday, October 05, 2022
Event Time
04:00 p.m. - 06:00 p.m. PT
Location
Creative Arts, Room #146
Contact Email
barbaraabadiarexach@sfsu.edu
Overview
Join us in welcoming Afro-Colombian musician Eryen Korath this Wednesday, October 5, 2022, from 4-6 p.m. This is gonna be one of a kind event you can't miss! Please, see attached flyer, mark your calendars, invite your students, and spread the word.
From Buenaventura, Colombia:
ERYEN KORATH
with 
Neblinas del Pacífico
The Queen of the Marimba de Chonta, ERYEN KORATH ORTIZ GARCES, is a native of Buenaventura, the main port city of the predominantly Afro-Colombian Pacific Coast. She has earned international recognition as a marimba de chonta performer and interpreter of numerous folk styles from Colombia's Pacific Coast. She is a tireless student and promoter of the tradition of her ancestors, having performed their music in the US, Ghana, Netherlands, Panama, Ecuador, and all over Colombia. Currently, Eryen serves as musical director and lead performer in the group Cantares del Pacífico (@cantaresdelpacifico). She is also a lawyer, and a member of Jóvenes Unidos por Buenaventura, a social advocacy platform empowering young leaders from Buenaventura. Eryen is the marimba player in Petrona Martinez's album "Ancestras" which won a Latin Grammy. She has won numerous honors and awards, including the National Sonar Contest of Marimba and Cali's Queen of Marimba Festival. 
NEBLINAS DEL PACIFICO (@neblinasdelpacifico) is a band of marimba de chonta music based in the Mission District of San Francisco and in East Oakland. Marimba de chonta music was developed by Black and Indigenous communities nestled along the rivers and mangroves on the Pacific Coast of Colombia and Ecuador. It is the music of spirituality and everyday life, roots and tradition, celebration and resistance. The members of Neblinas have roots in Colombia, the Bay Area, and Indonesia. They constantly partner with Eryen Korath, Cantares del Pacífico, and numerous other Afro-Colombian musicians and organizers to support grassroots community initiatives in Buenaventura, Guapi, Timbiquí, Tumaco, and Quibdó. They study and share this music in the spirit of respect and solidarity with the maestrxs and communities who are the guardians of this music.
Featuring:
    Eryen Korath Ortiz Garcés
    Andrés Reyes
    Federico Ardila
    Juliana Mejía
    May-Li Khoe
    Pipe Arrechea
on marimba de chonta, bombos, cununos, guasás, and vocals.
Event co-sponsored by School of Music and Latina/Latino Studies