The SF State Difference
Experientia Docet! 
The knowledge and experience gained through the Latina/Latino Studies Department prepare students to bring together theory and practice. We understand that engaged learning happens inside and outside of the classroom. We encourage students to work collaboratively with community organizations and engage in a reciprocal production of knowledge.
International Study Tour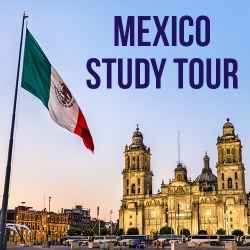 Mexico Study Tour
The Mexico Study Tour travels in late May and/or early June, leaving the Monday following graduation. The intensive 12-day trip to Mexico City and Morelos is faculty-supervised. Students meet with activists from community-based organizations and schools to learn about grassroots political and social change. Students planning to travel to Mexico must first complete course LTNS 670, which covers Mexican history and politics and Mexico's unique relationship to the U.S. This course is offered every Spring semester.
Community Service Learning Internships
Supervised local community service learning (CSL) internships offer unique learning opportunities for students that enrich and expand their academic experience. Students are required to complete at least thirty-five hours of service as part of the major requirements. Local community service learning internships are available every semester. Students choose internships from a wide variety of community-based organizations, government agencies, research and policy organizations, and schools.
LTNS 694 Community Service Learning
Prerequisites: Upper-division standing or permission of the instructor; must be taken concurrently with any LTNS course supporting community service learning. Course may be repeated for a total of 6 units.
The internships are designed to enrich the academic experience and to prepare students for future careers, as well as to establish empowering mutually beneficial contacts within the Latina/Latino/Latinx communities of the greater Bay Area. It is a goal of the CSL program to instill in our students a life-long commitment to community service and civic engagement. Students may enroll in a 3 Unit online course, LTNS 694, to complete additional assignments related to their community service learning internship.
Resources for Student Success
Curated List of Resources for Students
Facilities
Computer Labs Available to Ethnic Studies Students
For more information about these rooms, contact Academic Technology (AT) at at@sfsu.edu or via phone at (415) 405-5555. 
Room EP 115 (Closed this semester, will be open in Spring)
Lab Schedule: Monday-Friday, 9 a.m. - 5 p.m.
Availability Restrictions: For use by SF State students currently enrolled in courses offered through the College of Ethnic Studies.
Please note: The labs will be closed on all University holidays — Spring break, Thanksgiving break, and Winter break.
Quick Links