The Ethnic Studies SF State Scholar Program is a great opportunity for motivated students majoring in Latina/Latino Studies. The Master of Arts in Ethnic Studies is designed to be a versatile degree that provides a solid foundation for careers teaching at community colleges, working in community and multicultural resource development, administrative work in the non-profit sector, employment in student resource centers, practical application in the business fields and much more!
Students apply for this program during their sophomore or junior year so that they can begin an accelerated pathway to a graduate degree. Students in the SF State Scholars Program pursue a bachelor's degree in Latina/Latino Studies and a master's degree in Ethnic Studies simultaneously. This program allows students to earn graduate credit while in their junior and/or senior year, reducing the number of semesters required for completion of a master's degree. Through this program, students can pay undergraduate fees while taking courses for their M.A. degree.
Special Degree Programs
Latina/Latino Studies students have the unique opportunity to earn credit toward an Ethnic Studies Master's degree during their junior and/or senior year.
A Chance to Connect with More Students and Faculty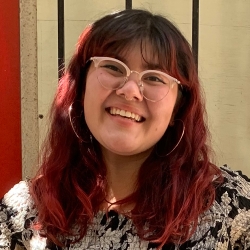 Amalia Laventure (Latina/Latino Studies B.A., Spring 2021 & Ethnic Studies M.A., Fall 2021)
I chose the B.A./M.A program in Ethnic Studies because of its rich and radical commitment toward the liberation of oppressed peoples. The BA/MA program in particular allowed for me to graduate on an accelerated path, and gave me the ability to apply what I was learning in my undergraduate classes to my graduate degree. I deeply enjoyed the opportunity to engage with Ethnic Studies on multiple levels, giving me a deeper analysis, and the chance to connect with more students and faculty.
UG Units applied toward MA
B.A. to M.A. Eligibility and Process
Undergraduate students interested in an accelerated pathway to a graduate degree through the SF State Scholars Program must be sponsored by a Tenured/Tenure Track faculty advisor in the degree program.
Students must apply to the program before they complete 90-105 semester units (consult with your program) and before enrolling in a senior capstone course in their major.
Students must have a minimum 3.0 cumulative GPA or 3.0 GPA in the last 60 semester units.
Students must not be declared in another major or second baccalaureate.
Students must meet admission requirements for their intended graduate program. For more information about your program admission requirements, please consult with your department (additional supplemental materials might be required).
Students must submit a SF State Scholars Program application that includes a Planned Course of Study to the Division of Graduate Studies.
Consult with an SF Scholars Coordinator to determine if you are eligible for the SF State Scholars Program and if the program is the best fit for you.
Complete the SF State Scholars Application and submit it to your SF Scholars Coordinator for approval. The SF Scholars Coordinator will forward your application to the Division of Graduate Studies for final submission.
No Application fee is required.
No GRE/GMAT test is required.
Transition to Graduate Level for Current Undergraduate SF State Scholars:
In the last semester of completion of undergraduate degree requirements (e.g., degree applicable 120 units, GE, GWAR, SF Studies), SF State Scholars students will apply for graduation for their B.A./B.S. in Gateway Student Center. For more information about the registrar's office deadlines please visit the registration graduation webpage.
The application fee will be automatically applied to student financial accounts once they apply for graduation.
The Registrar's office uses the Degree Progress Report (DPR) to determine if the student meets the requirements for graduation.
The DPR will not reflect which courses were taken in undergraduate standing that will be used toward the student's graduate program. SF Scholars program coordinators will work with students to verify which classes they plan to use for the master's degree.
After students apply for graduation, each SF State Scholars program coordinator will send a list of students and classes they wish to use toward their graduate degree. This should be sent to Khaled Ezzat at khaled@sfsu.edu by March 15 for Spring and October 15 for Fall.
Quick Links